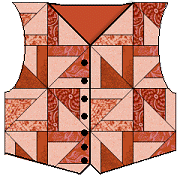 Remember though, you don't have to always think QUILT or Wall hanging! Piece a bunch of squares and use them as fabric for your favorite clothing patterns....or make table runners, placemats....tote bags...the sky is the limit!

Be creative! :o)

...and HAPPY QUILTING!!...Marcia :o)

Here's one that Linda made! and a Photo-Shoot of a unit being put together!