This makes a 12" block!
Here's one for all you BRIGHT folks...and a very easy one to boot! It works up FAST, and would be a great one for the young quilters as well! :o)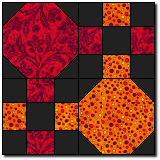 Please abide by the Terms and Conditions of use! :o)
3 Blocks x 4 Blocks with a 2" border makes a perfect Project Linus Quilt Sized Quilt!