This makes a 9" block!
Please abide by the Terms and Conditions of use! :o)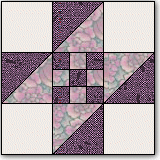 Here we go!--on the road to ...SCHOOL! This one reminds me SO much of my Aunt Betty's front yard.She lives RIGHT next door to our local prep/high school--and the path that cuts across one corner is much like this block!! I think she gave up even trying to divert the traffic!