This makes a 14" block and is partly paper pieced, or that pp part can be done with regular templates!
This is an original pattern. Please abide by the Terms and Conditions of use! :o)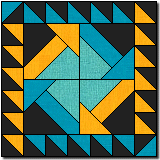 Click here for the PP template!
Or, for those who prefer, here are REGULAR templates!