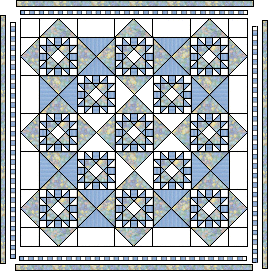 Sew the check strips to the quilt top and bottom, and then to the sides. Some mild fudging may be needed to make these exactly fit your sides top and bottom, depending on the accuracy of your piecing thus far! You can take slightly larger seams, or add more small squares. Then sew Color 1 2-1/2" x 62-1/2" strips to the quilts top and bottom, and 2-1/2" x 67" strips to the two sides. Again, you may want to leave these side , top and bottom strips a bit long, so that they fit YOUR quilt top! Measure your quilt top across the middle in each direction to get the exact length and width you need. Bind using your favorite method and quilt as desired!...

Here's Shelley's! another of Shelley's!

Ruthie's! Ruthie's Table Runner!