This makes an 8" block, and is part paper piecing, part regular piecing!...or there is an optional set of regular piecing templates!
Please abide by the Terms and Conditions of use! :o)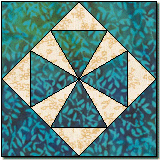 Click here for the center PP templates
Click here for the corner template
or, if you prefer, click here for a full set of REGULAR piecing templates!