This makes a 22" block! It's similar in construction to log cabin, but as you can see, very different in appearance.
Please abide by the Terms and Conditions of use! :o)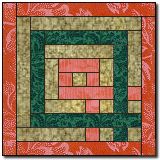 These pieces are all 2 1/2" strips in varying lengths. In the Supplies I have added a little to each length to give you a little room for error...