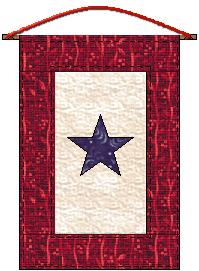 Here's one that Elizabeth made!
Did you know, that since WWI, families have hung a Blue Star Flag in their window, to proudly show that they have a family member in the Armed Services? I thought this might be a nice thing for you to make for your own family, or for someone you know, who may have Armed Service Folks in their family.
If you click the banner at left, it will give you an approx 6" star template, to which you will need to add 1/4" seam allowances, and then appliqué it to a 14" x 9" rectangle of tan or white fabric...by hand or machine. Sew 2-1/2" red border strips to the sides, and then to the top and bottom. Add the batting and backing of your choosing, and quilt as desired :o) A Plain Red, White and Blue fabric would be more in keeping with the Dept. of the Army stats on flags.
Next week...Nov 11-17th, is Veteran's Week. Perhaps Vets in your area will have something special going on, and there will be some way for you to lend them your support!... A Smile, and a heart felt THANK YOU !...or MORE!
Here's some More info!
http://www.bluestarmothers.org/mc/page.do