It makes a 12" block and is reg. or paper pieced! To Paper Piece, I recommend that you go to Practice Paper Piecing Page and read up!
Please abide by the Terms and Conditions of use! :o)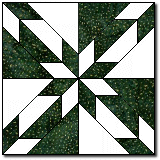 CLICK HERE for regular templates! Cut these apart and add seam allowances!
or
CLICK HERE for paper piecing pattern!