This makes a 12" block, and is partly appliquéd, by hand or by machine-Your Choice!
It's from the 1930's and it's also been known as Good Luck Block, Lucky Block, and Lucky Quilt!
Please abide by the Terms and Conditions of use! :o)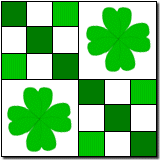 Click here for the clover template!
*Remember--if you will be hand appliquéing these, add a 3/16" to 1/4" seam allowance as you cut these out. If you will be fusing and machine appliquéing you do not need to add seam allowances!