This makes a 9" block!
...and is for a group of Folks from the Quilting at About Dot Com Forum :o)
Please abide by the Terms and Conditions of use! :o)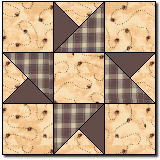 It's done more traditionally with the center square in the color of the secondary star tip color, but let's live right on the edge and change that!