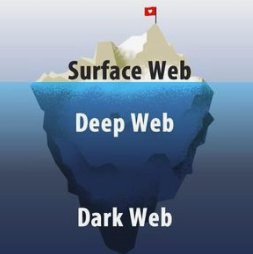 Of all the things to talk about in a newsletter...how about the Dark Web? Happy to say that I have given this part of the internet VERY little thought, and was blissful in my ignorance. Ah! But now? It has reared it's ugly head and made me pay a bit of attention. A bit ago, I read that "my password had been found on the dark web." I still paid it little mind. Then THIS week, I got an email...potential blackmail, from an unscrupulous sort who actually has my password. So Joe and I just got busy changing every single password to every single thing we can remember ever giving a password to. It was not fun. I have been on the computer for nearly 20 years. What are the chances I actually even remember where I have been? We have made a valiant start. In the meantime, it seems as though I should know a little more about "The Web We DON'T See"...here's a little intro: https://turbofuture.com/internet/A-Beginners-Guide-to-Exploring-the-Darknet It's kind of nausea making, to me. I WANT to believe better than this of my fellow man. So the whole point of mentioning this is that if you, too, have tended to have a password that you use for pretty much everything?...I guess it's really true that they need to be varied! Nuff' said on that.
| | |
| --- | --- |
| | More fun from Pinterest...Check out this page of Blue & White Quilts! Inspiration Galore!! One that really caught my eye from that group was the one at left...1-1/4" Squares appliqued on white by quilter Anne Francis! WOW!! |
The Story About How I Almost Sewed. The weather cooled off to the point that I could imagine going out on the porch and sewing. Then I blinked, and it no longer was. The End. Stay tuned...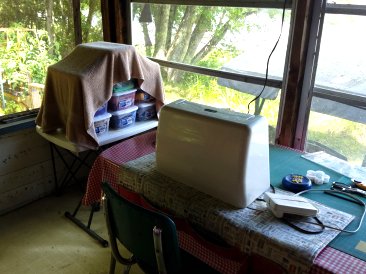 Man...it's so sad and neglected looking! Fabric bins covered with a towel to keep the sun off. Sheesh. Have I mentioned how much I hate humidity?
This week we had a tree service guy come down and give us an estimate on removing a couple very dead trees, as well as some sick limbs threatening to take down the porch roof. I seriously can't wait 'til that job is DONE! It would be so interesting to see photos of the camp property from my childhood, (well, interesting and probably sad as it has fallen into such disrepair...but I digress.) My point I guess was that Mother Nature is reclaiming her own...the woods are really closing me in! Hopefully within a couple weeks at least two of the dead ones will be out of here!
The morning chore for today was to track down--->who died in the alcove cupboard. So far no corpses have been found. The nose says otherwise. [This is NOT my favorite part of camp!]

Elsewhere a squirrel chewed a hole into the lid of my Wasabi & Soy Sauce Almonds. Not big enough to enter. The only okay part of that was the thought that the little bugger might have burnt up on wasabi fumes!

The AWESOME quilt at left , Hazel Nutt is available as a kit from Laura Heine...see it here: https://www.fiberworks-heine.com/shop/c/p/Hazel-Nutt-Painterly-Collage-Kit-by-Laura-Heine-x24230546.htm (pattern available separately)

I would probably add a Wasabi Almond hanging from it's lip, and X's for eyes! LOL

If you happen to be a squirrel fanatic and have made it past my mock-unkind commentary...you might love all THESE squirrel quilt finds on Pinterest!
Now I need to zoom over to the Post Office to mail a package to Kate before it is too late!
Have a Great Quilting Week All!
Marcia :o)
" Never feel self pity, the most destructive emotion there is. How awful to be caught up in the terrible squirrel cage of self." Millicent Fenwick