August...wow...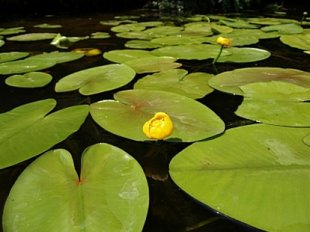 The daylilies are now long gone to stalks, but the water lilies (at left) in the pond are still out in abundance! 'cept the ones snitched by some summer thieves in canoes...(said very tongue in cheek! as everyone does it!) We also still have a FEW cow lilies, shown above. It will still be pretty when brother Sam and wife Addi get back here on Thursday. just an August sort of pretty, this time!
Last week's visit with daughter Kate and her family was really fun, and TOO SHORT! I say this every year, so it must be true! We packed in a couple trips up to Bangor for Mexican food (Kate and I are so in love with it!), and a day trip to the coast so Willie could walk on the beach a bit, plus a visit to Perry's Nut House- a kids dream come true--he got the Squeaky Rubber Chicken, and it was a-okay with me that it stayed in the car! LOLOL! Chuck got in four or five fishing trips too, so it way worth bringing up the boat!...and Kristen, Troy, and Alex came down for MOST of the evenings while they were here. Compared to my normal solitude--it was a hotbed of activity all week! One Yummy Lobster dinner--so so special cuz we only do it once a year, and steaks all around another night. Hopefully they will be coming back up for Christmas this year too! I'm already looking forward to it!
| | |
| --- | --- |
| | I've had a STRANGE thing happen to my tomato plants, both the full sized plants AND the plum tomatoes. They have contracted Blossom End Rot. It seems to have stemmed from a calcium imbalance, from what I have been able to glean from the internet. I worked a zillion crushed up eggshells into the BIG tomato plant soil, and those seem to be doing better now. Sadly the plums are just a wash for this year--so sad, as there were a hundred tomatoes on those plants :o( I'll chalk this up to experience! We've had an odd summer, rain-wise...not getting hardly ANY rain...so maybe I also wasn't watering them enough? I'm so fortunate to have SEVERAL wonderful farm stand places near me, so I won't suffer for the lack! |
After Kate and all left, I set my sewing area back up, and yet I STILL haven't sat down to the machine. I'm not sure why. It just isn't calling my name very loudly right now, I guess. You know how that goes, right? Then one day I'll start sewing again and it will be as though I never left it. ..and the world goes round and round, no matter what I do, or don't do :o) It's all good!
A project did catch my eye though!

This wonderful Halloween Mantle Scarf! Directions for it are HERE!

Now I wish I had a mantle!
Lightning! Time to shut this down!
Have a Great Quilting Week!
Marcia :o)
" The reason lightning doesn't strike twice in the same place is that the same place isn't there the second time" Willlie Tyler